Clay Real Estate
Clay Real Estate
Clay/Liverpool Real Estate For Sale (please click price range):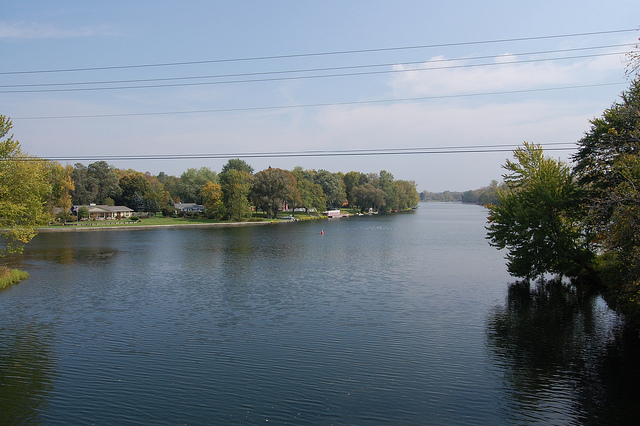 Oneida River, Clay, Ny Photo courtesy of C. Bednar

The Town of Clay is the northern most and largest town in Onondaga County covering 54.6 square miles in size and includes part of the Village of North Syracuse. In 2008 the Town of Clay was rated 59th of America's best places to live by Money Magazine.
Liverpool is a delightful 2,600 resident community on the north shore of Onondaga Lake with unique shops, great restaurants and lovely lakeshore trails. It is an easy 5 minute commute to downtown Syracuse and an approximate 15 minute trip to get to the airport. Schools: Children in the Town of Clay attend one of five school districts. They are: Baldwinsville, Central Square, Liverpool, North Syracuse and Phoenix.
Shopping & Dining: Two major highways (Route 31 east/west, Route 57 north/south) run through the Town of Clay and each has numerous retail shops and eating establishments. There is one major shopping mall (Great Northern Mall) which is on Route 31. There are many chain restaurants such as Smokey Bones, Chili's Grill & Bar, UNO Chicago Grill, Panera Bread, Olive Garden, Red Lobster, Ruby Tuesday, Friendlys, Kirbys American Grill, Fresno's and Bob Evans. Local restaurants include Avicolli's, Bankok Thai, India House, Pier 57, Mothers, Santangelo's, China Garden, Hafner's,The Retreat, Lou Lou's Family, Plate, and the Euclid Restaurant. Heids Hot Dog stand is a Central New York landmark that's been in business since 1917 and one of the oldest drive-ins anywhere in the United States.
Parks/Lakes/Recreation: There are numerous parks in the Town of Clay, where you can enjoy your favorite recreational activity. Onondaga Lake Park is one of the larger and better parks in the Syracuse area. It has a marina, picnic areas, benches for admiring the view, refurbished play grounds for children (one wheelchair accessible), good dog play area, paved pathways for walking/jogging/rollerblading/biking and fields for playing ball(baseball, soccer, football, etc.). Golfers can enjoy the Liverpool public course, plus there are 7 other golf courses in close proximity.
Popular Neighborhoods in Liverpool and Clay New York:
There are many which include Bayberry, Bel Harbor, Cherrinton, Cherry Estates, Clairmont, Country Meadow, Dominion Park, Fairways East, Forest Hills, Lawton Valley, Merril Farms, Pine Gate, Pompton Knolls, Wild Creek and Willow Stream.
New Home Construction in Liverpool/Clay: There are several neighborhoods offering new home construction. Search all new construction homes in Liverpool/Clay
How is the housing market in Clay New York?
It is a buyers market in Clay. The average sales price is $159,000 and the average time it take to sell a home when priced correctly is 94 days.
See Current Market Data in Clay Now!
How is the market in Liverpool New York? The average sales price is $146,000, and the average time it takes to sell a home, when priced correctly, is 72 days.
See Current Market Data in Liverpool Now!
See More Communities in Central New York - Click Here